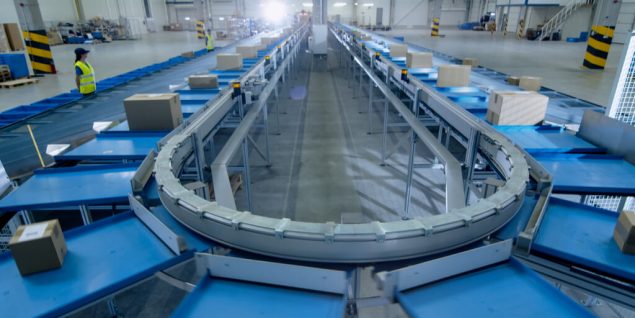 Food and drink distribution centres are hectic environments, which means that they need to be cleaned thoroughly and regularly. But do you have the right warehouse cleaning equipment in place to get the job done properly? Without the perfect equipment, it'll take too long and you won't achieve the industry-leading standards that are so sought after. 
A lot of businesses underestimate the importance of utilising the perfect warehouse cleaning equipment. However, warehouse cleaning should be a main priority – so, investing in the right tools to get the job done should be high up on your list. That way, you can be sure that your premises are best positioned for the overall success of your business. 
Don't worry if you're not sure what items you need to maximise your cleaning efficiency – we've got you covered. This post will outline the importance of having the right tools, advise on the type of equipment that you should invest in and how they'll benefit your overall operations. 
We'll cover: 
The Importance of Investing in the Right Warehouse Cleaning Equipment
Warehouse cleaning often isn't a priority for some companies, which means that they definitely won't have the right equipment in place. We're firm believers that cleaning should be one of your main priorities, that way, you can ensure your business standards are on point right the way through the business. 
Not just that, food and drink distribution centres can be pretty dangerous places at the best of times, not to mention if they're dirty. On-site vehicles, lifting and handling, and falling objects from high racking present enough hazards to your team members, without them having to worry about falling over due to a dirty floor.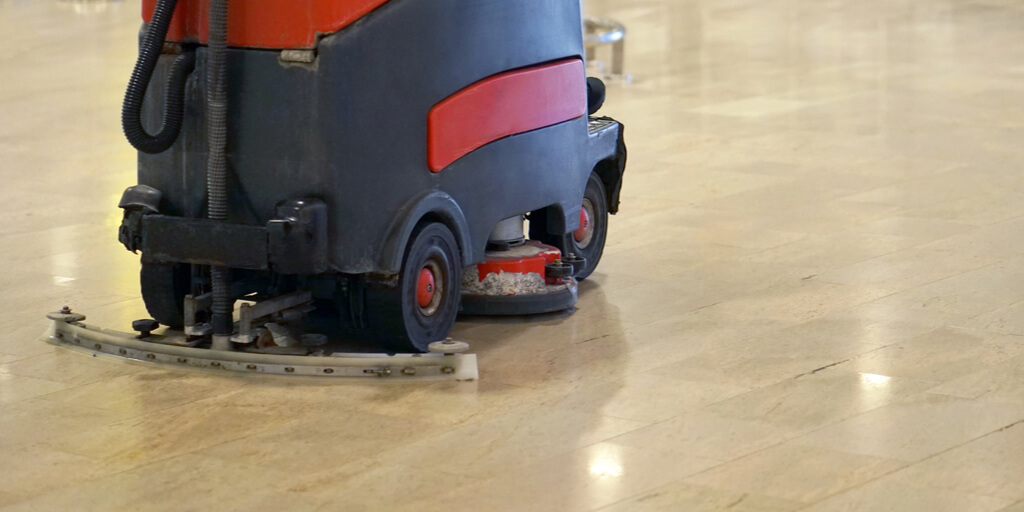 Without having the right equipment, you're not going to get the results that you're after. Cleaning will take longer than expected, which can slow down your overall operations. In food and drink distribution warehouses, there are lots of deadlines that have to be adhered to. Therefore, if you're taking longer than expected when cleaning, you're going to have shorter time periods to meet these deadlines. 
With the right equipment, you can speed up your cleaning process and improve the standard of cleaning that you carry out. Plus, it can increase your overall safety, improve your business efficiency and reduce the risk of avoidable downtime. Having the right equipment in place is crucial to the success of your overall business. 
Scrubber Dryers
Walk-Behind Scrubber Dryers
For smaller distribution centres, walk-behind scrubber dryers may be a good investment. Walk-behind scrubber dryers are perfect for pushing around your site regularly throughout the day, or at the end of your shift. They're heavy-duty and are proven to get the job done, tackling the thickest of grime with ease. So, you needn't worry about those tough stains to remove and lift.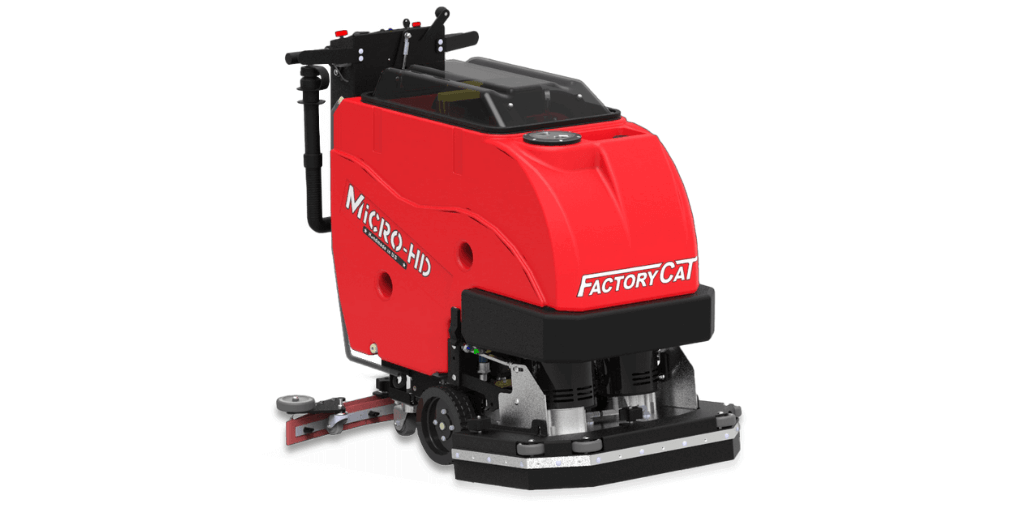 Walk-behind scrubber dryers are perfect for getting into those tough to reach spots in the warehouse that larger machinery wouldn't be able to get into. That way, you can be certain that every bit of your warehouse is spotless. They'll give you complete peace of mind, so that you can be sure your workforce won't have to worry about coming to work and having an accident on shift.
Ride-On Scrubber Dryers
For larger sites, you'll need a machine that can easily move around your workplace. That's where ride-on scrubber dryers will do the trick! They wash, scrub and dry all in one motion, meaning that your cleaning process will be a lot more efficient. Using a scrubber dryer saves you the time of going over your premises several times to wash and scrub – plus, means you don't have to worry about waiting for your floor to dry before resuming operations.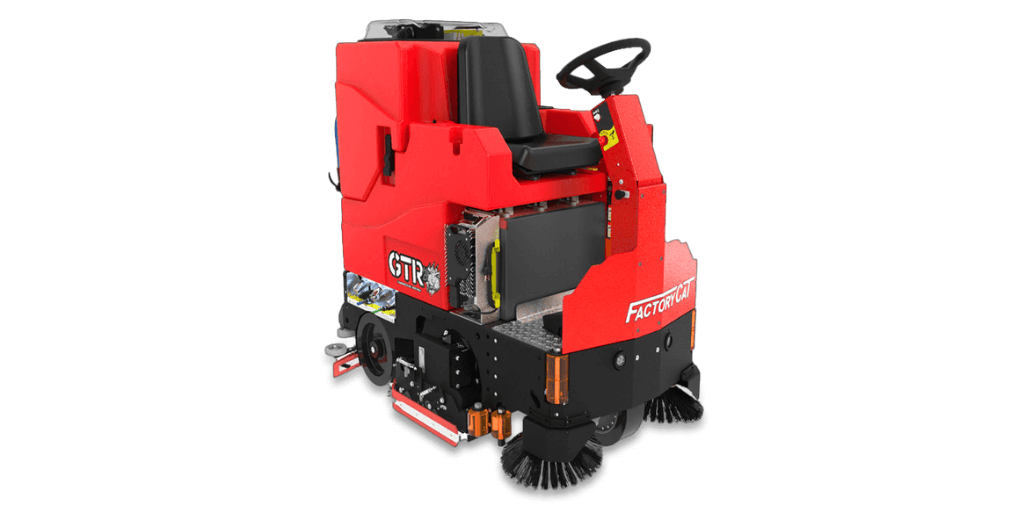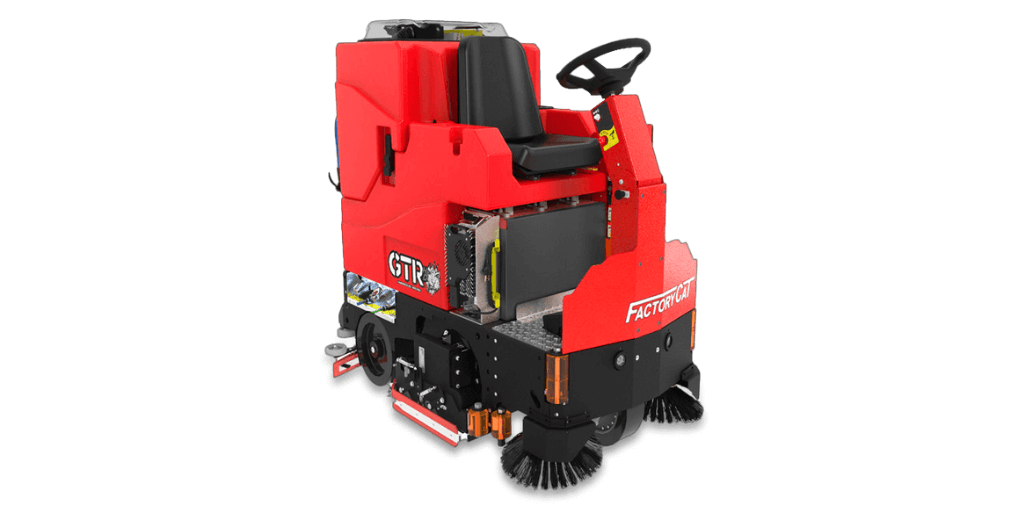 Ride-on scrubber dryers are necessary for large sites – otherwise, you just won't have the time to cover the area with smaller equipment. In this case, you're more likely to rush the cleaning process and won't do as thorough of a job as necessary. Or, you'd need to invest in multiple walk-behind machines, which can quickly add up. Save time and money with a ride-on scrubber dryer. 
Floor Sweepers
Walk-Behind Floor Sweepers
As with any warehouse premises, dust and operational debris can quickly build up in food and drink distribution warehouses. Whether it's bits of packaging or actual products themselves, we understand that accidents happen from time to time and that's not a problem. It's how you deal with them that counts – the best way is to deal with them straight away, that way, they'll never be forgotten about.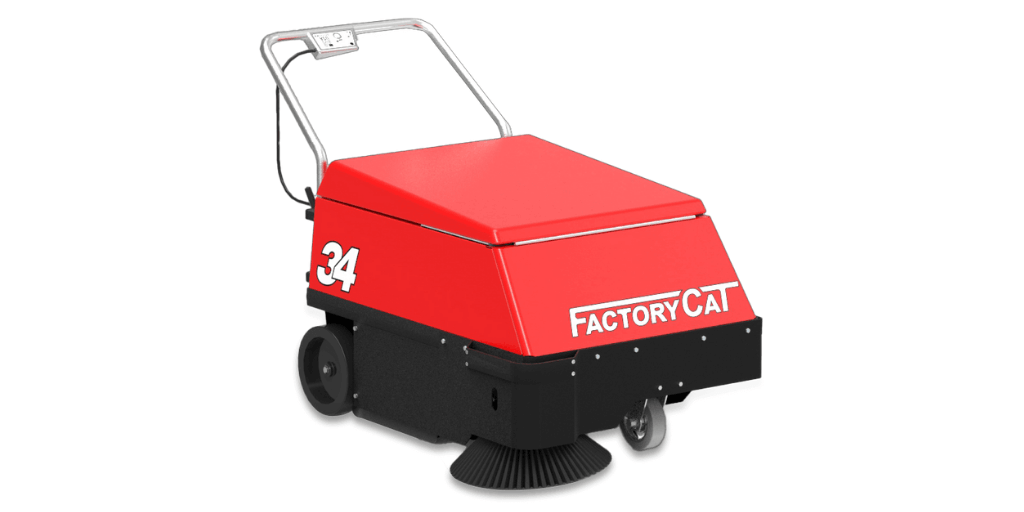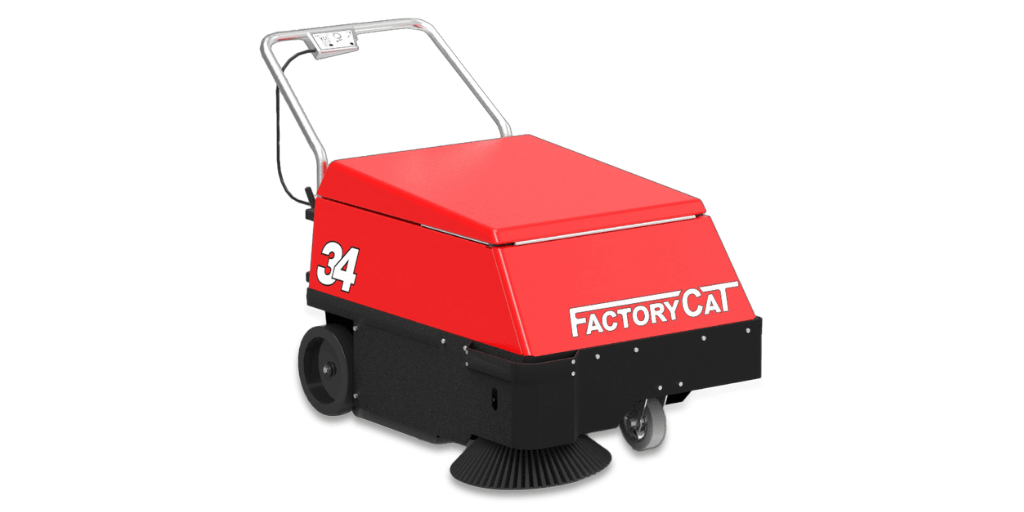 Walk-behind floor sweepers are ideal for smaller distribution centres. Quite frankly, there's no need for a large ride-on floor sweeper if you've only got a small area to cover. Plus, they're handy for just being able to wheel out and run around the floor with as and when you need to, rather than getting the old mop and bucket out whenever there's an incident or mess created. 
Ride-On Floor Sweepers
Ride-on floor sweepers ensure that the job is done right, every time. They're built for purpose, so you can be sure that they'll glide around your site with ease and not miss a trick. They're brilliant for speeding up proceedings, that way, you can reinvest the time saved into areas of your business that need it the most.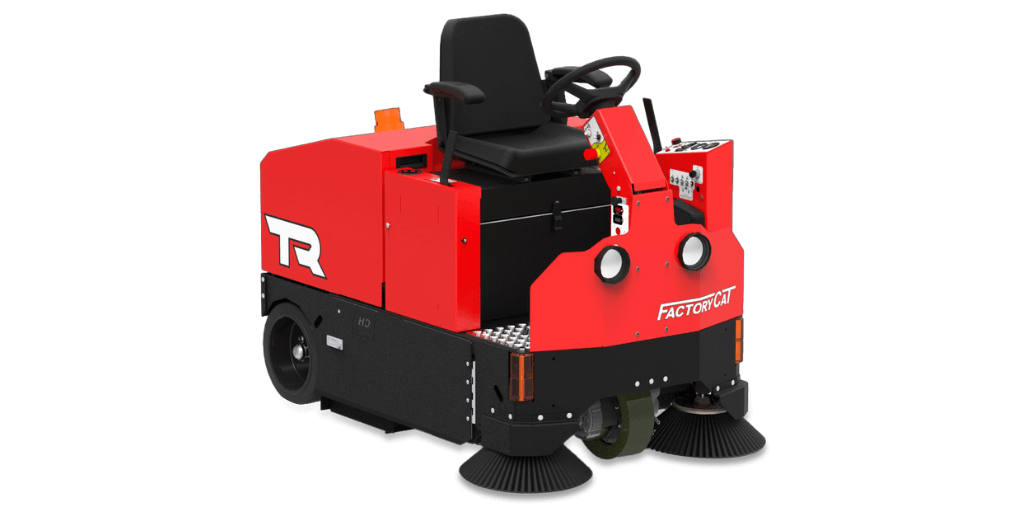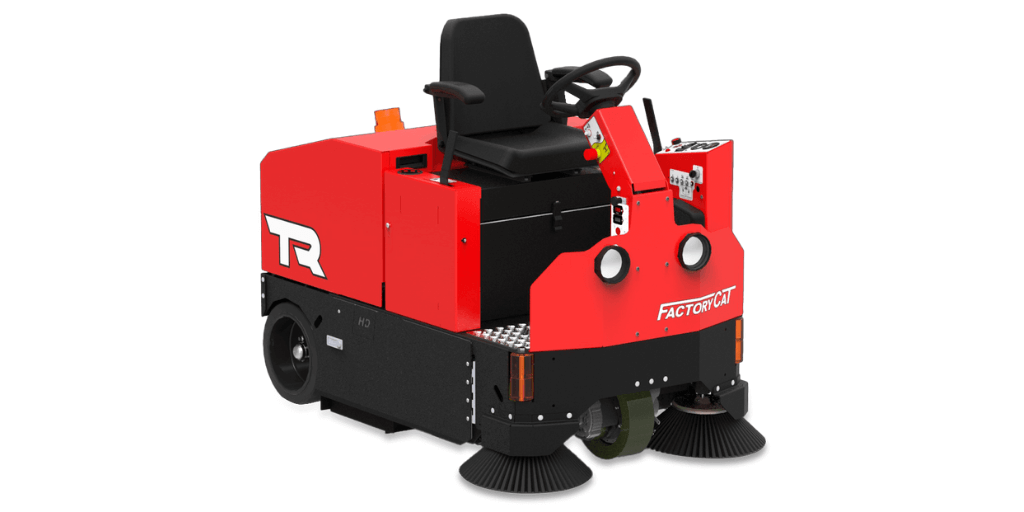 They don't let anything stand in their way, so you can relax and have the peace of mind that your floor is optimally clean. When as clean as possible, it means that your team members will have no problems moving around the site and can work productively. When productivity levels are up, so is business efficiency and profitability. Keeping an ultra-clean warehouse has a direct effect on the smooth operation of your business. 
Training Your Staff to Use the Equipment Properly
It's all well and good having the right equipment in place but do your staff know how to safely operate it? Plus, do they know how to get the most out of your machinery too? Knowing how to operate the machinery safely can be the difference between a seamless cleaning process or a nasty accident. 
All your staff must be in the know when it comes to operating machinery. Think about it, if the one person who knows how to operate the machines is on annual leave or out with a client, the rest of your workforce will be left not knowing what to do to clean the warehouse. Not only is this impractical and unfair on the one operator, but it's also poor practice and could expose your workforce to unnecessary hazards.
At Beta Solutions, we're committed to ensuring that all of your workforce are up to speed with how to operate Factory Cat machines. The secret to the longevity of the machines is knowing when they need maintenance and a little TLC –  without the right knowledge, you wouldn't be able to tell. This could cause you to run your machine into the floor without you knowing.
Knowing how to operate your machines is crucial to getting the most out of them. Want the industry-leading results that you've always dreamed about? Well, make sure that your workforce knows the machines inside out. We provide an extensive training package for all of our machines – for more information, click here.
Choose the Right Industrial Floor Cleaning Machine For Your Business
As you've just read, investing in the right warehouse cleaning equipment is essential to nailing your cleaning process. With that in mind, it's crucial that you choose the right industrial floor cleaning machine to meet your needs and requirements. This is a big decision for your company, so you mustn't rush into it without the proper research carried out. 
To kickstart your research, we've put together a free guide that outlines some of our most popular machines that are well suited to the food and drink industry. It includes everything you need to know, from the benefits our machines can have on your business to product specifications. 
Download your copy today and take the first step towards streamlining your warehouse cleaning process!