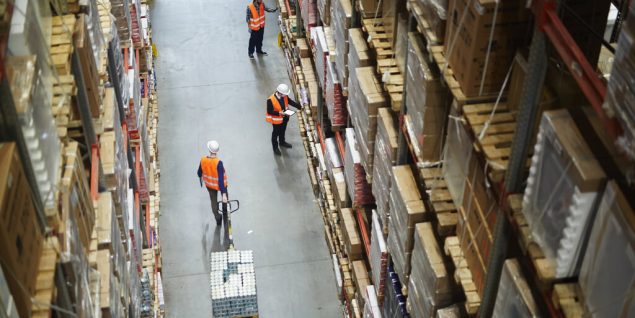 The environment within logistics warehouses is often intense. Hundreds of deliveries coming in and out of the warehouse mean that team members are never shy of anything to do and are always busy. In busy environments, you need to make sure that all processes are streamlined so that no unnecessary time is wasted and you're operating at full efficiency.
Although often overlooked, cleaning should be a main priority in your logistics warehouses. Contrary to popular belief, it's not a laborious or tedious task if you have the right equipment. With the introduction of an industrial floor cleaner, you can create groundbreaking results quickly – that way, there can be little or no disruption to your operations. 
But which machine is right for you? Well, there are various types and a lot of different models to choose from. Don't worry, we've got you covered. This post will outline the different types of industrial floor cleaning machines and will advise how they're best used and which industries they're best suited to. 
We'll cover: 
Walk-Behind Scrubber Dryers
Logistics warehouses come in all different shapes and sizes. When we first think of them, we automatically picture large supermarket distribution centres in our heads, right? Well, let's not forget the smaller ones that also need to keep on top of their cleaning regime. With that in mind, the two workplaces have largely different needs so will need different cleaning solutions.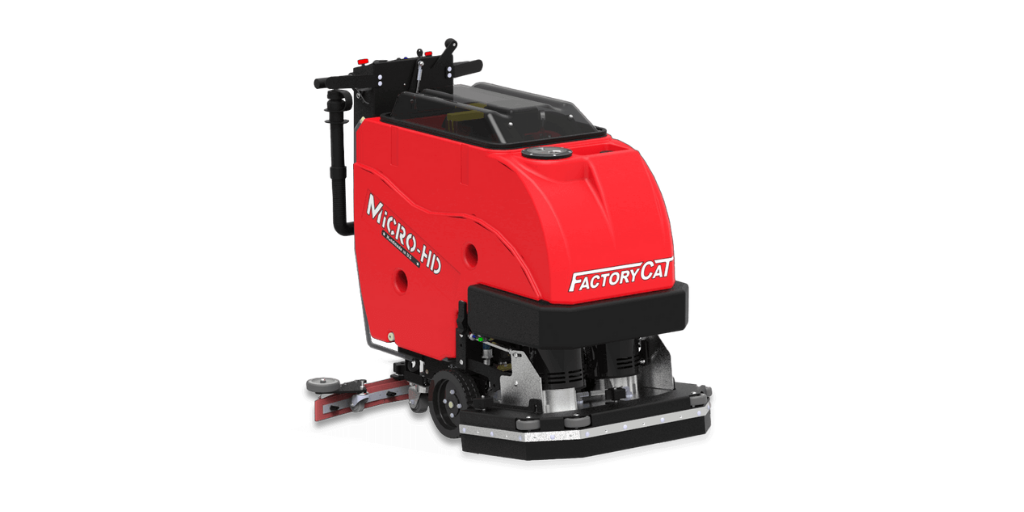 Walk-behind scrubber dryers are the perfect machines for smaller warehouses. Busy days can lead to a thick build-up of grime and dirt, plus, if you're not cleaning this regularly (as you should be) it's going to become increasingly more difficult to budge. But with a walk-behind scrubber dryer, it's not. 
They're designed to glide through the thickest dirt. They wet, clean and dry all in one motion so that you can minimise any operational downtime. Cleaning your warehouse properly doesn't have to be time-consuming to produce the results that you desire. These machines can move around the site quickly and are proven to get the job done. 
Walk-Behind Floor Sweepers
In logistics warehouses, it's not always thick grime and dirt that you need to worry about. General operational dust builds up from unloading and loading deliveries. Plus, with footfall traffic being heavy, there's always dust and other mess being trodden through the warehouse. You've got to account for any errors and product spills too – these are only natural. 
For this type of mess, you don't need a scrubber dryer to clean your floor. Of course, it'd get the job done no problem, but it's a little too heavy-duty for this type of job. That's where the floor sweeper steps in. Walk-behind floor sweepers are designed to catch every last bit of operational dust and debris – plus, pretty much anything that's in front of it.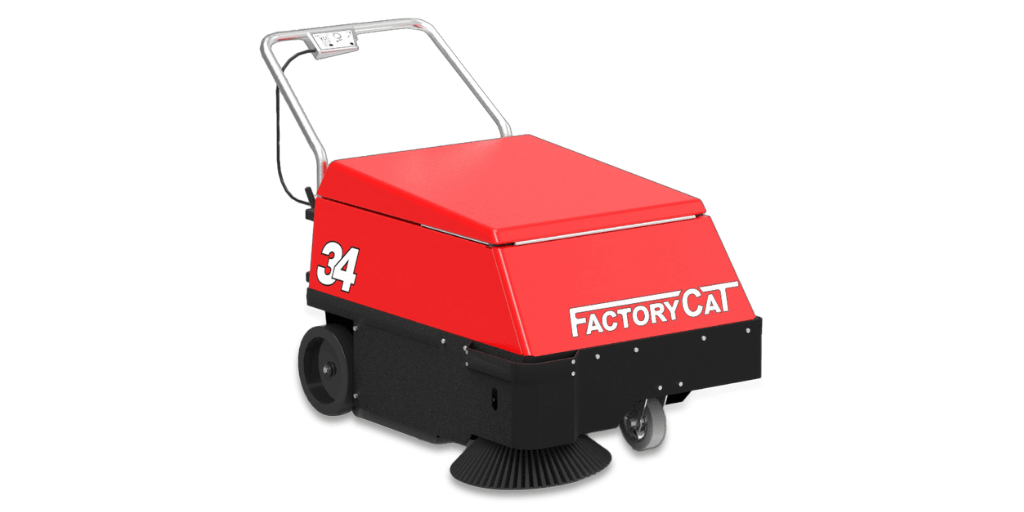 If you're operating in a small food logistics warehouse, you need to keep on top of dirt and dust building up. If the dust settles, harmful bacteria can start to grow and can instantly ruin the condition of your stock and products. Therefore, regularly running around the warehouse with a walk-behind floor sweeper can help you stay on top of this. 
They're perfect for accessing those intricate and hard to clean places – bear this in mind for larger warehouses too. It's perfectly acceptable and massively productive to see walk-behind versions being used in conjunction with ride-ons on larger sites. 
Ride-On Scrubber Dryers
For larger sites, it would take a while to clean a full site thoroughly with a walk-behind scrubber dryer. While they'd have no problem getting the job done, you can't afford to be wasting unnecessary time when cleaning. Quite often, big sites operate around the clock, therefore, you need to streamline the cleaning process to maximise output. 
Ride-on scrubber dryers are the perfect machine to create amazing results in as little time as necessary. To create industry-leading results, you need to prioritise the right amount of time per shift or day to get the job done. With the introduction of a ride-on scrubber dryer, you can be sure that your cleaning regime will be effective in a small period of time.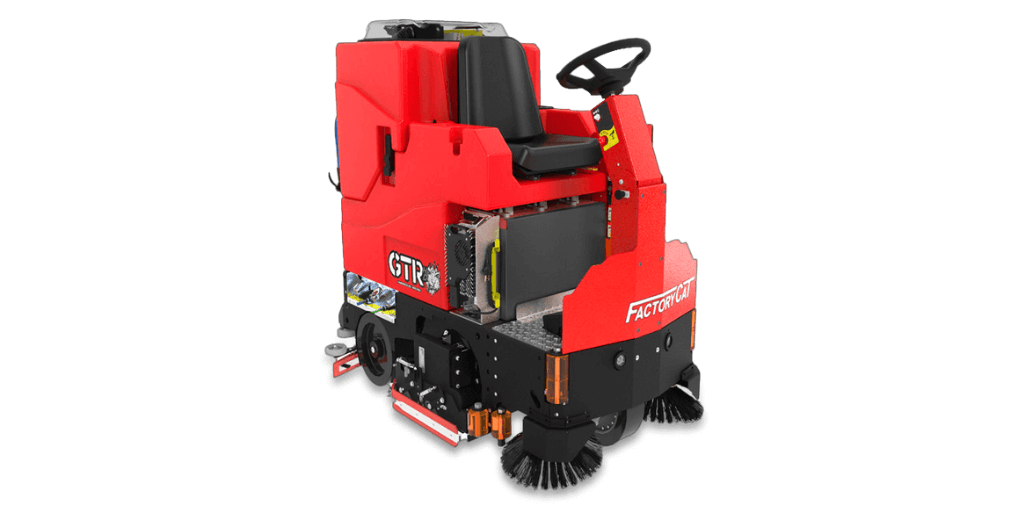 These machines are durable, heavy-duty and can be relied upon to get the job done. Plus, they're easily operable. That way, you don't have to rely on one team member to be on-site for you to carry out the cleaning. At Beta Solutions, comprehensive machine training can be provided to bring you and your team members up to speed with your new machine. 
A ride-on scrubber dryer is an essential investment for your logistics warehouse. By ensuring that the warehouse is as clean as possible, you'll be keeping in line with health and safety standards and making sure that your team members are all safe while working. Industrial cleaning is important – it's time to take it seriously. 
Ride-On Floor Sweepers
Just like the scrubber dryer, floor sweepers also come in a ride-on variety. While walk-behinds are likely to be called on when necessary, ride-on floor sweepers are more suited to dedicated cleaning times. For example, if there's a spillage or rapid build-up, a walk-behind will be called into action to quickly get rid of the mess.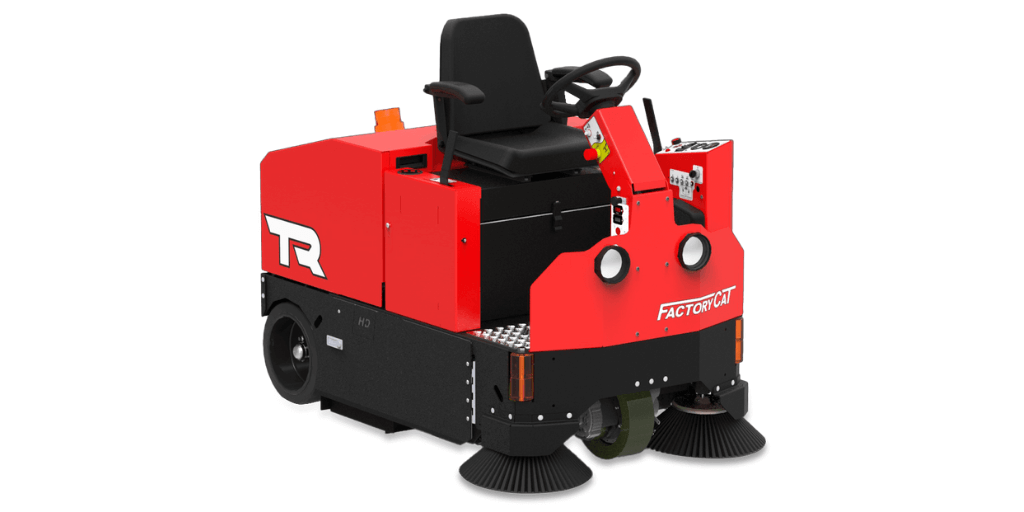 Whereas, ride-on floor sweepers are used between shifts or at the end of the day. They can cover a large area in a quick time, without compromise on any quality. You can be sure that a ride-on sweeper will leave your site as clean as possible and ready for the next shift or day's worth of operations. 
They'll pick up anything in their way, which makes them perfect for logistics warehouses. You'll likely have a variety of products stored in a logistics warehouse, so should anything be spilt or break on the floor, you can guarantee that your ride-on floor sweeper will aptly pick it up. 
With the introduction of a ride-on floor sweeper, you can be certain that any operational dust on site will be caught. So, you can be confident that your products are stored in the best condition and you'll be reducing any unnecessary wastage that's caused by damaged goods.
Sanitation Machines
In adherence to industrial hygiene standards, it's important that your site is always sanitised adequately. There's never been a more crucial time to thoroughly sanitise your site with the impact that the global pandemic continues to have. Walking around your site with anti-bacterial spray and a cloth isn't the right answer though, let's face it.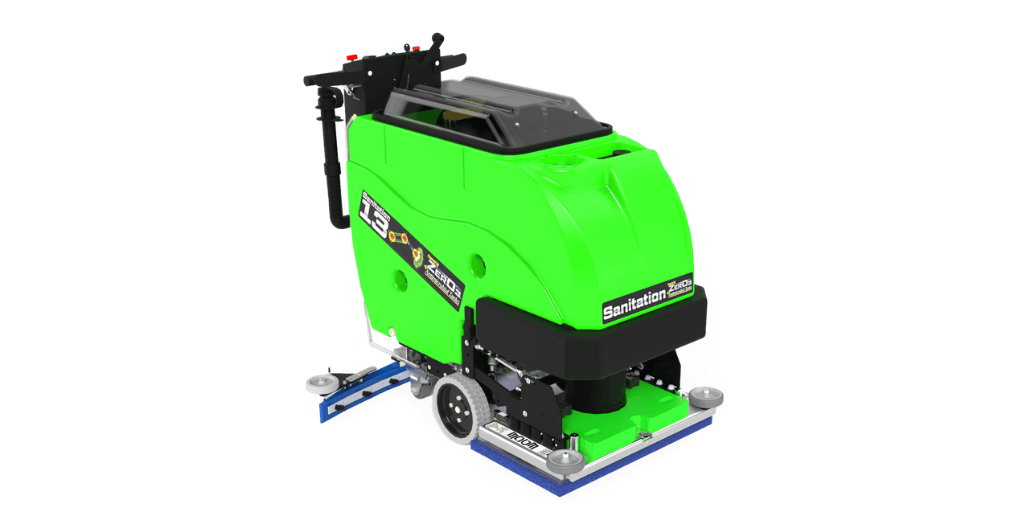 Your process needs to be a lot more heavy-duty than that – not to mention, less time-consuming too. Sanitation machines are perfect for rounding off your cleaning process and ensuring that you've killed all germs and bacteria on your floor, surfaces and overall site. They're a worthy investment and ensure the great condition of your stock and safety of your team members. 
Beta Solutions Can Help Equip Your Business Correctly
Now that you've got more of an idea of which machines will suit your individual site, it's time to actually pick one! This is a big decision for your business, so we urge you not to rush into things. Picking any old industrial cleaning machine doesn't guarantee incredible results – choose the wrong one and you could be facing a wasted investment.
To help you make smarter decisions, we've put together a free guide that includes everything you need to know (and more) about the right industrial floor cleaning machine for your business. From real-life examples, different models available and helpful tips when choosing the right equipment – it's all in there for you to benefit from. 
Download your copy today! And take the first step towards securing the right equipment to drive your business forwards.