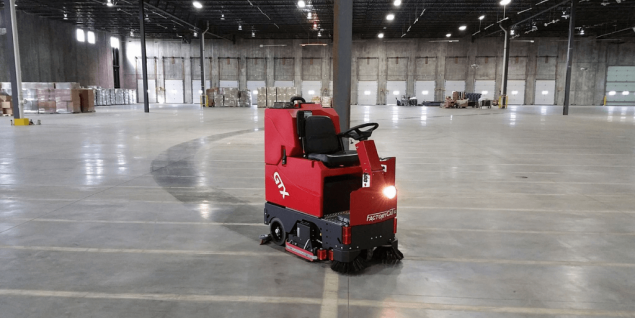 The correct floor care is a critical component in nearly every aspect of a business. Dust, dirt, allergens and germs can all disrupt your business' workflow and appeal which can be a huge negative for busy working environments.
Floor cleaning on an industrial scale can be time-consuming and hard work. But with a time-efficient ride-on scrubber dryer – you needn't worry about the negatives of dirty flooring again!
At Beta Solutions, we've been providing specialist floor cleaning machines throughout the UK for OVER 30 years – so we know our stuff. In this post, we'll explain why clean flooring is essential, explore the specifics of the Factory Cat GTX and also give you the lowdown on which industries are best suited to this machine
We'll cover
Why Do Businesses Need a Clean Floor?
Often overlooked, a clean floor is essential for floor maintenance, employee safety and to ensure the working environment is 100 percent safe. If floors are cleaned regularly, not only will they look great but it'll save you money long-term. It's time to worry about the things that matter and leave the floor cleaning to the expert machine.
Safety
Dirt, grime, grease, water and other contaminants can build up on your floors over time without you even knowing and become major health and safety hazards – causing slips, trips and falls. 
Slippery floors are some of the largest contributors to injuries in the workplace and basic sweeping won't just solve the problem. With a durable ride-on scrubber dryer, floor maintenance will be so much easier and safety can be maintained.
Healthier Environment
Constant floor traffic creates a haven for germs, allergens and dirt which can be a key leading factor for the spread of illness, disease and contamination. The majority of people in a workplace spend a lot of time together, so it's crucial to keep your workspaces clean and more importantly germ-free. 
If you aren't cleaning your floors regularly, germs will continue to thrive and employees will suffer – and so will your production line too.
Corroding Floor
A dirty floor has a shorter lifespan – fact. Regardless of what it's made of, cleaning your flooring regularly will help prevent floor corrosion and structural damage. Contaminants and dampness, over some time, can cause the flooring to corrode. 
Should this happen, flooring will need to be replaced at a great cost. If your floor isn't damaged, you can prepare yourself and get ready to prevent any mishaps that might happen in the future. 
Cleaning your flooring correctly can be difficult but with the right machine, it can be achieved effectively. So, what machine can you use to help you achieve clean floors efficiently? A ride-on scrubber dryer! Durable and easy-to-use, it's the perfect solution for flooring maintenance. Let's explore the specifics and then you can decide if it's the right choice for you.
Factory Cat GTX: The Specifics
FactoryCat's GTX Rider Floor Scrubber Dryer is known for its simple design, productive performance and durable construction. The GTX Floor Scrubber Dryer has impressive down pressure, a powerful front-wheel drive and a brilliant brush speed – this machine cleans the toughest dirt around and helps keep the industry clean.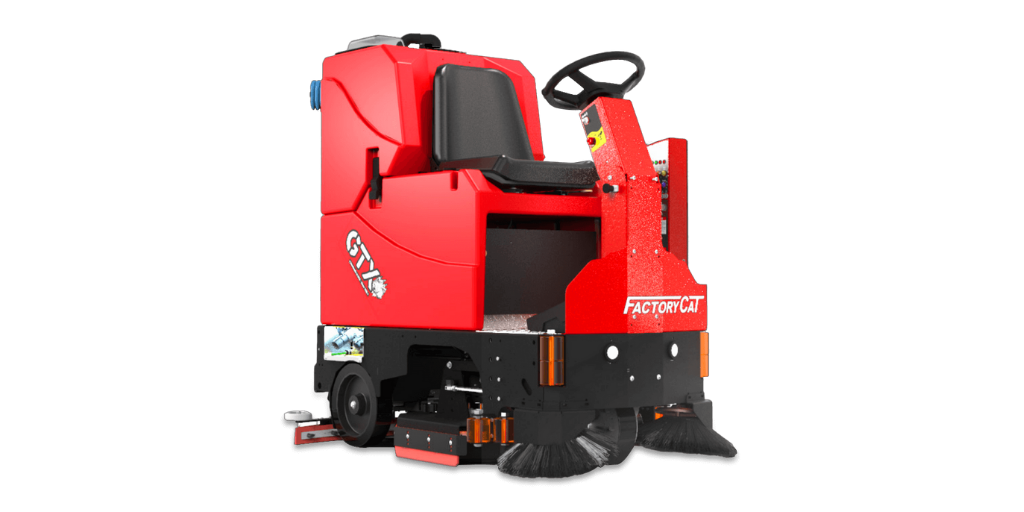 Unlike other compact machines, this GTX Rider Floor Scrubber Dryer machine has a welded steel frame – perfect for MANY years of service and performance. You don't need to worry about training your employees either, these machines are equipped with simple controls that virtually anyone can operate and they're super simple to service too. 
This machine is ride-on, so, no longer will individuals be expected to work long hours walking behind a traditional floor scrubber. Greater surface area of flooring can be easily cleaned and employees will now have the time and energy to do additional work.
HD Solid Tyres
The Factory Cat GTX Rider Floor Scrubber Dryer has solid-cut resistance rubber tyres which are powerful and can climb up the steepest of ramps. Having a machine that uses solid-cut resistant tires is more time and cost-efficient. Flat tyres are few and far between as they're incredibly resilient to damage.
Vacuum Muffler 
Although dirty floors can increase the chances of trips and falls, so can wet floors – even if they're clean! This machine is fully equipped with a vacuum muffler that consistently cleans while thoroughly drying the floor. 
This means that time doesn't have to be put to the side to cater for floor drying… This machine dries flooring on-the-go. Dry, safe and CLEAN FLOORING – what a result! 
Increased Comfortability = Increased Productivity
If an employee is comfortable, they're more likely to achieve better results. This machine has a spring-suspension, fully adjustable, mid-back chair providing ULTIMATE comfort. The steering column is adjustable and work lights provide better visibility. Plus, spray jets can be used for hard to reach areas and the added armrests all contribute to enhanced operator comfort. 
Employee fatigue no more!
The Industries Best Suited For A Ride-On Scrubber Dryer
At Beta Solutions, we ensure that businesses are equipped with the correct machine to increase productivity with as little hassle as possible. We guarantee that our experts can help you secure a machine that's perfect for your production needs. But where can this machine be used effectively? Let's have a look!
Warehouses
Introducing a floor cleaner into your warehouse can be a great addition to workforce safety and germ control. It's a given that if your warehouse isn't cleaned properly, your workforce and the warehouse products will be exposed to harmful chemicals and bacteria. Not only that, if products become contaminated these will then have to be replaced. 
The loading bay of a warehouse is the key place for bacteria, dirt and grime as deliveries are coming and going ALL day from different destinations. It's a prime location for germs to fester and that's why it's essential to ensure your cleaning is on-form.
For larger sites, a Factory Cat GTX Ride-On Scrubber Dryer is perfect. It's time-efficient, so if you're working around the clock, this streamlined machine will ensure cleaning is accomplished fast with maximum output. These machines can be operated by any team member, so cleaning can be carried out at any time by anyone.
By ensuring your warehouse is as clean as possible, you'll be on top of health and safety standards and all your team members will be safe. A ride-on scrubber dryer is an investment and can help you tick those important boxes.
Food and Beverage Packaging and Distribution
As we know now, workplace safety and cleanliness is important for the productivity of your production line. In particular, if you're working in the food and beverage industry, hygiene standards must be as HIGH as possible. Otherwise, cross-contamination can be at the forefront of many problems that will occur.
We all love food and beverages but when they're in a production warehouse, they can create mess very quickly! If you're moving food and beverage products around a warehouse that's germ-ridden or dirty, you're risking product freshness and contamination – it's a no go!
Cleaning should be at the top of your priority list to ensure freshness and product quality is maintained consistently. After all, these products are for human consumption and they need to fit these requirements.
Cleaning can be seen as time-wasting and sometimes laborious, but it's the foundation for a successful production line. Maintaining a deep cleaning routine with high-standards can be achieved efficiently with a Factory Cat GTX Ride-On Scrubber Dryer – time-saving, durable and easily controlled. Put cleaning and hygiene first and success will follow!
Engineering Plant
Thick grime is normal at an engineering plant but that doesn't mean it should become part of the furniture. It should be cleaned and maintained regularly to improve efficiency, strengthen your business reputation and increase output levels.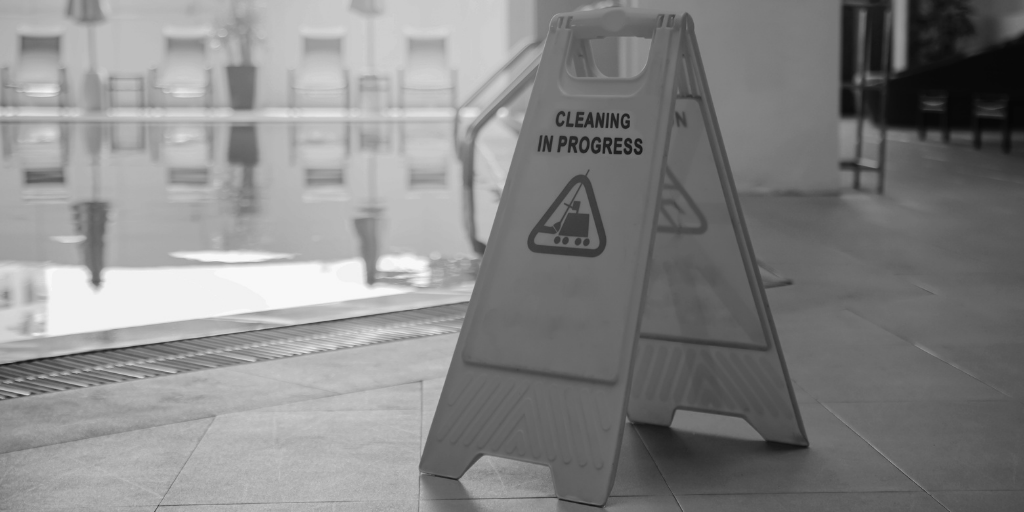 From team members carrying out tasks across the plant to oil spillages and overseas deliveries – your flooring experiences a lot day in day out. You need a floor cleaner that's designed for rigorous cleaning and performs to the best of its capabilities. Because grime and oil on the floor especially, can cause many hazards and accidents. 
Introducing a Factory Cat GTX Ride-On Scrubber Dryer will easily remove thick grime. Mopping by hand isn't enough – no really, it just doesn't cut it. 
Why wouldn't you want to choose a time-saving machine? Factory Cat GTX is time-saving, reliable and includes spraying jets for hard to reach places. Put your business health and safety first and you'll continue to reap the rewards.
Drive Your Business Forward! 
Although the Factory Cat GTX Ride-On Scrubber Dryer is easy to operate and requires no previous training. At Beta Solutions, we can provide you with comprehensive machine training to ensure all team members are up to speed with the new machine and then on-site cleaning can be carried out in the most timely manner.
Unsure of whether it's the choice for you? Don't worry, you don't have to purchase any machines outright from us – you can hire them! When you hire a machine you have the flexibility to see how the machine can align with your business processes, understand how amazing they are and choose the right machine for your needs.
We know that selecting a machine can be a tricky decision, so that's why we're always on hand to help. Free guidance and advice will be provided along your journey from the start – we want you to get the job done right and reduce any pressure at all. 
To help make the decision a little easier, we've put together a FREE Ebook that guides you through which products are available at Beta Solutions, helpful tips and real-life examples (and more). Download your copy today and be one step closer to securing a machine that will keep your cleaning and hygiene routine on top form – helping you drive your business to the next level.