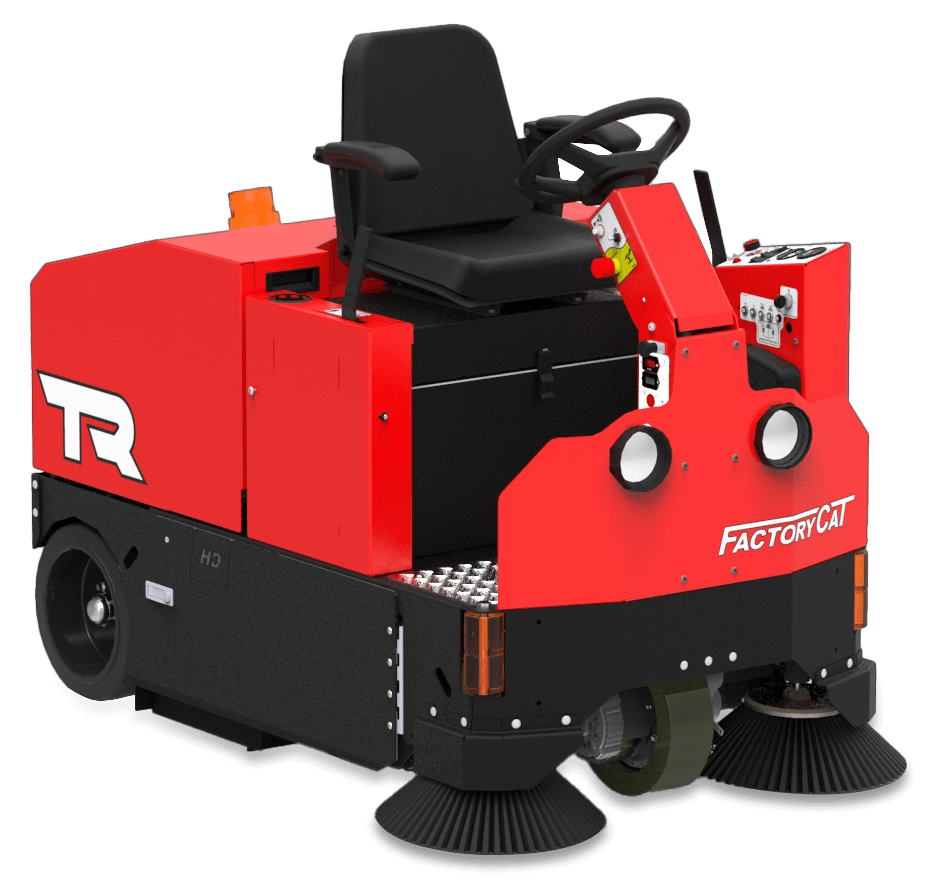 Factory Cat

Model TR

Cleaning Width

46'' (117 cm)

Hopper Capacity

4.2 cubic ft. (116 liters)
Hire
Flexible hire options available
Machine Summary
Factory Cat's Floor Sweepers are built to sweep factories: dirt, dust, metal shavings, foundry sand, bolts, paper, wood, whatever there is.
The Factory Cat model TR's design was built from the success of our Model 34 walk behind sweeper. The TR's side brooms sweep up dirt in the corners, while a huge tubular sweeping broom under the machine sweeps up the dirt and debris from the floor and packs it into the steel hopper. Meanwhile, the second stage vacuums up the dust and traps it in a polypropylene felt "baghouse" filter. Factory Cat's Industrial floor sweepers can pick up whole bags of cement at a time without leaving a trace of dust behind.
– With built in side-brooms, this Ride-on unit is able to pick up dust and dirt from cracks normally unreachable.
– This Rider Floor Sweeper has built a built in dust-control filtration system to make dust control a worry of the past.
– All of Factory Cat's Industrial Floor Sweepers work at a very low decibel to allow for sweeping during the normal business hours.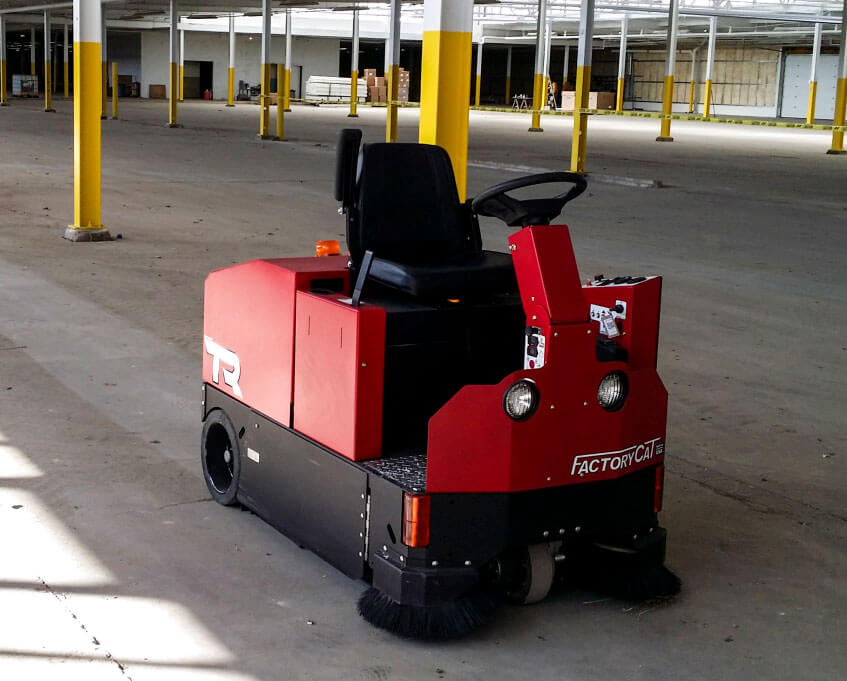 Technical Details
BODY CONSTRUCTION / DIMENSIONS
| | |
| --- | --- |
| Chassis Construction | 3/16'' (5 mm) Powder Coated Steel |
| Front Wheel (Diameter × Width) | 10'' × 3'' (25 × 8 cm) - Solid Black |
| Rear Wheels (Diameter × Width) | (2×) 14'' × 5'' ([2×] 36 × 13 cm) - Solid Black |
| Size (L × W × H) | 64'' × 37'' × 50'' (163 × 94 × 140 cm) |
| Weight (w/o Batteries) | 825 - 875 lbs (374 - 397 kg)t |
| Weight (w/ Standard Batteries) | 1,115 - 1,165 lbs (506 - 528 kg) |
SWEEPING SYSTEM
| | |
| --- | --- |
| Sweeping Method | Direct Throw |
| Broom (Diameter × Length) | 10'' × 32'' (25 × 81 cm) |
| Broom Power / Speed | 1.0 hp / 435 rpm (746 watts) |
| Side Broom Size | (2×) 17'' ([2×] 43 cm) |
| Side Broom Power / Speed | (2×) 0.3 hp / 100 rpm (224 watts) |
| Hopper Capacity | 4.2 cubic ft. (116 liters) |
POWER SYSTEM
| | |
| --- | --- |
| System Voltage | 24 VDC |
| Standard Battery: Includes Onboard Charger* | *240 ah WET |
| Optional Battery | 325 ah WET / 420 ah WET / 250 ah AGM / 390 ah AGM |
| Run Time: **Run times are based on continuous sweeping run times. | **Up to 5 Hours |
| Charger | 120VAC / 60 Hz Input - 24 VDC / 37A Output |
DRIVE SYSTEM
| | |
| --- | --- |
| Power | 2.0 hp - All Gear / Sealed (1491 watts) |
| Speed Control | 0 - 308 ft/min / 0 - 3.5 mph (0 - 93.9 m/min / 0 - 5.6 km/h) |
FILTERING SYSTEMS
| | |
| --- | --- |
| Filtering Material | Polymer Felt/Baghouse |
| Filter Rating | 1 Micron |
| Size | 5,192 sq. inches (3.35 sqm) |
| Vacuum Specs (Airflow) | 280 cfm |
GENERAL
| | |
| --- | --- |
| Cleaning Width | 46'' (117 cm) |
| Decibels: ***Decibel levels per ISO 11201 as recommended by the American Association of Cleaning Equipment Manufacturers & OSHA | 65 dB*** |
| Productivity - Theoretical: ****Productivity is based off of ISSA 2010 Cleaning Times | Up to 75,000 sqft (6,968 sqm)**** |
| Productivity - Practical: ****Productivity is based off of ISSA 2010 Cleaning Times | Up to 59,406 sqft (5,519 sqm)**** |