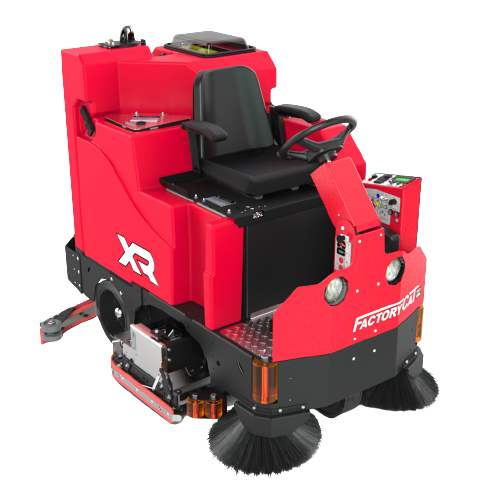 Factory Cat

XR – Ride On Scrubber Dryer

Scrubbers

Disk and Cylindrical / 34'' - 46''

Down Pressure

Up to 250 lbs / with Auto Adjust

Power

Battery / Up to 5.0 hours Runtime
Large Heavy Duty Ride-on Floor Scrubber Dryer
Factory Cat's XR Ride-on Floor Scrubber Dryer is a tough, durable large sit on floor scrubber that offers the highest floor cleaning productivity for large warehouses and factories but with much better manoeuvrability than most of the competition and safer visibility with a centralised operator seating position. The Factory Cat XR Ride-on Floor Scrubber Dryer has powerful drive motors that can climb steep ramps and this heavy-duty floor scrubber machine comes standard with heavy-duty wheels. Features of the industrial drive system include an automatic parking brake and industry-leading onboard vac attachment and a spray wand for detail cleaning in hard to reach corners, under racking and under the fixed packing tables or conveyors (where safe to do so).
In addition, the Cylindrical scrub deck option of an XR allows you to perform a light pre-sweep of your floors as well and then scrubbing the floors clean and leaving them bone dry in a single pass for much greater cleaning efficiency. All of the XR models are battery-operated electrical machines and from a full charge they give the operator up to 5hours of cleaning time.
The Central Command II systems on all of Factory Cat's  Ride-on Scrubber dryers include an LCD readout, onboard machine diagnostics, and 3 different hour meters. Also, if the floor cleaning machines batteries become too discharged, the XR can automatically shut down some systems except "transport", enabling the operator to still make it back to the charging station.
The build quality of this machine is second to none in the UK market, with thick steel chassis and industrial-grade plastic tanks the factory cat XR has been built to withstand high usage in busy working environments where cleaning is required daily. This machine is ideal for the cleaning of large factory and warehouse floor and with its 5-year warranty, it gives the hirer complete peace of mind.
If you are based in the UK and would like to see an onsite demonstration of this Ride-on scrubber dryer on your site, get in touch. Beta Solutions is one of the only companies in the UK that is happy to bring a floor cleaning machine to your site and demonstrate it for you with no obligation and no cost. This way you can be sure that if you are in the market for hiring or purchasing floor cleaning machines that you get to see them working on your site and get a better feel for the machine and decision making when it comes to order
The Factory Cat XR Ride On Scrubber Dryer is exclusively available to hire or purchase from Beta Solutions Ltd in The UK.
Give us a call or fill out the contact form to get a quick quote, book a survey or book a demo.
Still not sure what machine you want? Read our handy guide

here.
Technical Details
BODY CONSTRUCTION / DIMENSIONS
| | |
| --- | --- |
| Tank Materia | Poly 3/8'' (9.5 mm) |
| Chassis Construction | 3/16'' Steel (4.8 mm) Powder Coated Steel |
| Front Wheel (Diameter × Width) | 12'' × 4'' (30.5 × 10.2 cm) - Solid Black |
| Rear Wheels (Diameter × Width) | (2×) 14'' × 5'' ([2×] 35.6 × 12.7 cm) - Solid Black |
| Size (L × W × H) | 69'' × 36'' × 56'' (175.3 × 91.4 × 142.2 cm) |
| Weight (w/o Batteries) | 1,200 - 1,250 lbs (544 - 567 kg) |
| Weight (w/ 325 ah Batteries) | 1,925 - 1,975 lbs (873 - 896 kg) |
BRUSH / PAD SYSTEM
| | |
| --- | --- |
| Disk Dimensions | 34'' - (2×) 17'' Diameter (86.4 - [2×] 43.2 cm) |
| | 40'' - (2×) 20'' Diameter (101.6 - [2×] 50.8 cm) |
| | 45'' - (2×) 23'' Diameter (114.3 - [2×] 58.4 cm) |
| Disk Motor | (2×) 1.0 hp ([2×] 746 watts) |
| Disk Brush Speed | 200 rpm |
| Cylindrical Dimensions | 34'' - (2×) 7'' × 32'' (86.4 - [2×] 17.8 × 81.3 cm) |
| | 40'' - (2×) 7'' × 38'' (101.6 - [2×] 17.8 × 96.5 cm) |
| | 46'' - (2×) 7'' × 44'' (116.8 - [2×] 17.8 × 111.8 cm) |
| Cylindrical Motor | (2×) 1.5 hp / 350 rpm ([2×] 1,119 watts) |
| Cylindrical Brush Speed | 750 rpm |
| Brush Pressure Settings | (5) with Auto Adjust |
| Brush Down Pressure | Up to 250 lbs (113 kg) / 500 lbs (227 kg) Actuator Rating |
POWER SYSTEM
| | |
| --- | --- |
| System Voltage | 36 VDC |
| Standard Battery | 325 ah WET |
| Optional Battery | 425 ah WET / 440 ah Industrial / 400 ah AGM |
| Run Time | Up to 5.0 Hours* |
| *Run times are based on continuous scrubbing run times. | |
| Charger | 120VAC / 60 Hz Input - 36VDC / 30 amp Output |
DRIVE SYSTEM
| | |
| --- | --- |
| Power | 3.0 hp - All Gear / Sealed (2,237 watts) |
| Forward Speed | 0 - 320 ft/min / 0 - 3.6 mph (0 - 98 m/min / 0 - 6 km/h) |
| Scrubbing Speed | 0 - 256 ft/min / 0 - 2.9 mph (0 - 78 m/min / 0 - 5 km/h) |
| Reverse Speed | 0 - 230 ft/min / 0 - 2.6 mph (0 - 70 m/min / 0 - 4 km/h) |
SOLUTION / RECOVERY SYSTEMS
| | |
| --- | --- |
| Solution Tank Capacity | 65 Gallons (246.1 liters) - w/ Graduated Site Tube |
| Solution Flow / Filter | 0 - 1.0 GPM / Stainless Inline (0 - 3.7 LPM) |
| Recovery Tank Capacity | 78 Gallons (295.3 liters) - 2'' (5.08 cm) diameter Drain Hose |
| Demisting Chamber | 1.25 Gallons (4.7 liters) |
| Drain Saver | 30 cubic inches (492 cubic cm) |
| Vacuum Power | (2×) 1.0 hp / 3 Stage (740 watts) |
| Vacuum Specs (Water Lift / Airflow) | 70'' / 140 cfm (177.8 cm / 4 cm/m) |
| Vacuum Specs (Water Lift / Airflow) | 70'' / 140 cfm (177.8 cm / 4 cm/m) |
| Squeegee | Curved w/ 4-sided Rear Blade & Quick Change Latch |
| | 34D & 34C - 46'' (116.8 cm) |
| | 40D & 40C - 53'' (134.6 cm) |
| | 45D & 46C - 60'' (152.4 cm) |
GENERAL
| | |
| --- | --- |
| Cleaning Width | 34'', 40'', & 45'' - Disk (86.4, 101.6, 114.3 cm) |
| | 34'', 40'', & 46'' - Cylindrical (86.4, 101.6, 116.8 cm) |
| Decibels | 67 dB |
| Productivity - Theoretical | Up to 49,587 sqft (4,607 sqm)** |
| Productivity - Practical | Up to 22,989 sqft (2,136 sqm)** |
| **Productivity is based off of ISSA 2010 Cleaning Times | |