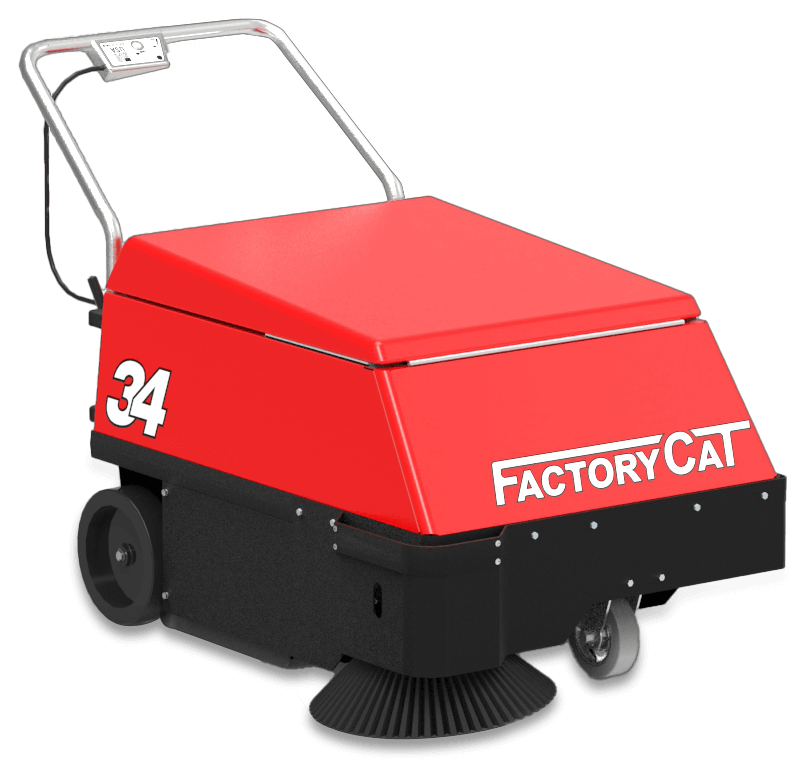 Factory Cat

Model 34

Cleaning Width

34'' (86 cm)

Hopper Capacity

2.0 cubic ft. (56 liters)
Hire
Flexible hire options available
Machine Summary
Factory Cat's Floor Sweepers are built to sweep factories: dirt, dust, metal shavings, foundry sand, bolts, paper, wood, whatever there is. Factory Cat's are compact, not light-duty.
The Factory Cat model 34 Walk Behind Sweeper is the machine that built our company. A Industrial Sweeper famous for its ability to survive decades in the harshest applications: including mines, brick manufacturing and rugged steel mills. Designed almost 25 years ago, this floor sweeper can sweep through thick saw dust found in furniture manufacturing plants and the dust in paper mills. Bulk powder packaging clients with concrete powder or copier toner like its sweeping power without it blowing dust everywhere. The battery powers the sweeper for over 4 hours on a single charge and the sweeping broom is self adjusting for wear.
Great for indoor small Industrial plants, this Walk Behind Sweeper will pick up anything that is in it's path and store it in an easy to empty hopper.
While dust control is normally a problem with floor sweepers, our Walk Behind Sweepers have built in filtration systems that control dust from escaping or flying around.
This Walk Behind Sweeper has a built in side broom for areas where you have to get underneath a ledge that isn't normally within reach.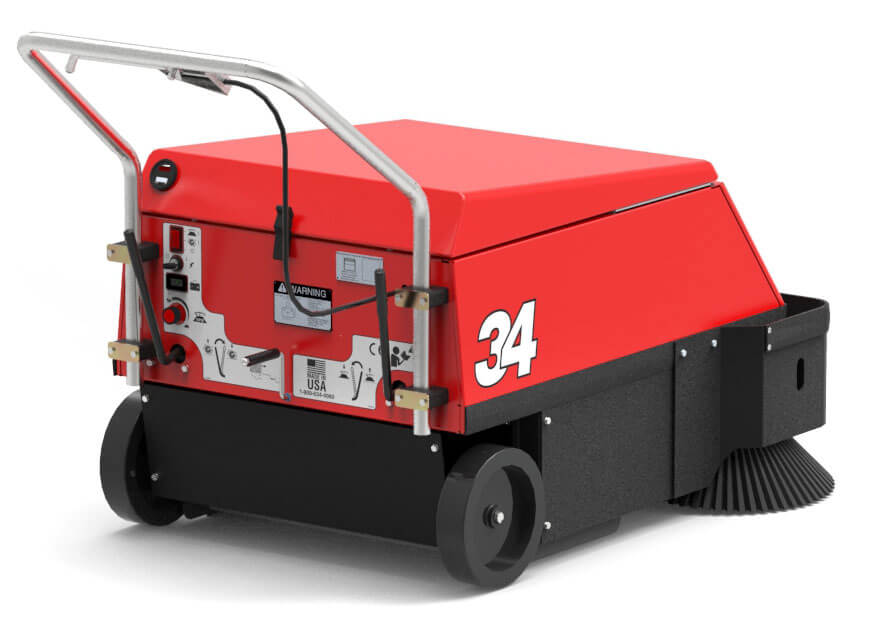 Technical Details
Body Construction / Dimensions
| | |
| --- | --- |
| Chassis Construction | 1/8'' (3 mm) Powder Coated Steel |
| Front Wheel (Diameter × Width) | 6'' × 2'' (15 × 5 cm) - Non-Marking Solid Grey |
| Rear Wheels (Diameter × Width) | (2×) 10'' × 2'' ([2×] 25 × 5 cm) - Non-Marking Grey |
| Size (L × W × H) | 58'' × 31'' × 38'' (147 × 79 × 96 cm) |
| Weight (w/o Batteries) | 295 - 345 lbs (134 - 156 kg) |
| Weight (w/ Standard Batteries) | 425 - 475 lbs (193 - 215 kg) |
Sweeping System
| | |
| --- | --- |
| Sweeping Method | Direct Throw |
| Broom (Diameter × Length) | 10'' × 26'' (25 - 66 cm) |
| Broom Power / Speed | 1.0 hp / 400 rpm (746 watts) |
| Side Broom Size | (1×) 17'' (43 cm) |
| Side Broom Power / Speed | 0.3 hp / 65 rpm (224 watts) |
| Hopper Capacity | 2.0 cubic ft. (56 liters) |
Power System
| | |
| --- | --- |
| System Voltage | 12 VDC |
| Standard Battery | 175 ah WET* |
| *Includes Onboard Charger | |
| Optional Battery | 215 ah AGM |
| Run Time | Up to 5 Hours** |
| **Run times are based on continuous sweeping run times. | |
| Charger | 120 VAC / 60 Hz Input - 12 VDC / 25 amp Output |
Drive System
| | |
| --- | --- |
| Power | 1.0 hp - All Gear / Sealed (746 watts) |
| Speed Control | 0 - 237.6 ft/min / 0 - 2.7 mph (0 - 72.4 m/min / 0 - 4.3 km/h) 0 |
Filtering Systems
| | |
| --- | --- |
| Filtering Material | Polymer Felt/Baghouse |
| Filter Rating | 1 Micron |
| Size | 5,192 sq. inches (3.35 sqm) |
| Vacuum Specs (Airflow) | 250 cfm |
General
| | |
| --- | --- |
| Cleaning Width | 34'' (86 cm) |
| Decibels | 61 dBA*** |
| ***Decibel levels per ISO 11201 as recommended by the American Association of Cleaning Equipment Manufacturers & OSHA | |
| Productivity - Theoretical | Up to 21,316 sqft (1,980 sqm)**** |
| ****Productivity is based off of ISSA 2010 Cleaning Times | |
| Productivity - Practical | Up to 17,647 sqft (1,639 sqm)**** |
| ****Productivity is based off of ISSA 2010 Cleaning Times | |